Published: March 16, 2021
In business, we are only as good as the promises we deliver, not just the ones we make. This is why your inventory is so important to the continued success of your company. What every customer wants is a vendor that can respond quickly to their needs. The world moves fast, and sometimes your inventory does too.
To be successful, a business must know what's in demand, what's in stock, where that stock is located, and how to track it. These capabilities enable you to follow through with your customers consistently.This added focus on creating an exceptional customer experience is why more businesses rely on inventory management systems than ever before. Not only does inventory management software enable your business to deliver what your customers want when they want it, but it also ensures that you are not overstocking. Companies with ineffective inventory planning have experienced significant losses totaling $300 billion lost in potential revenue due to markdowns.
Simply put, inventory management errors are costing organizations much more than they realize, which is why the right software helps tremendously.
Quick Links
What Is Inventory Management Software?
In short, inventory management software is an application allowing you to monitor inventory levels while also tracking the supply chain, orders, sales, and deliveries. More robust solutions, like those offered by CAVU ERP, include the ability to generate insightful reports, identify slow-moving versus top-selling items, and analyze data in real-time.

Given the benefits of using this software, it is no surprise to see widespread adoption in the marketplace. Global Market Insights found that the inventory management software market reached $3 billion in 2019, and it's estimated to grow to $5 billion in 2026.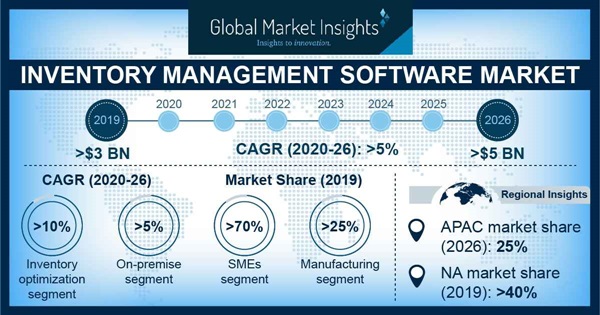 Source: Global Market Insights
As the numbers show, there is a need for organizations to improve their supply chain and gain clarity throughout their operations, ultimately helping them streamline efficiencies and mitigate potential downsides of bad inventory management. By overseeing all your inventory needs in one digital solution, you cut costs, stay organized, improve accuracy and efficiency, and keep your customers satisfied.
How To Determine What Inventory Management Software Is Right for You
Your reputation, in many ways, depends on your ability to predict and deliver, so why not leverage the right solution to bring you success? Given the number of options on the market, it may be difficult to determine what system is right for your business.
There are three main factors to consider as you look to upgrade your current software to a new program.
1. Determine What You Need From Inventory
As any good carpenter will tell you, measure twice, cut once. The same is true for your business. You don't want to make any moves without knowing exactly what you need, especially when the wrong decision can be costly. For that reason, one of the most important steps to investing in an inventory management system is knowing what you need from your inventory.

Start by auditing your stock. You need to know what you have, what moves fast, what stays on the shelves, and where you have trouble managing those issues. When you have inventory issues, what are they? Is forecasting an issue leaving you either overstocked or understocked? Or maybe the issue is re-ordering? Like any problem in life, being able to identify the root cause is the first step in finding the right solution.
For example, if you're a mason supplier, you know that you need precise loading calculations during the sales process. Without accurate estimations, you run the risk of overloading your orders, which can hurt your profitability. This kind of error can cost you thousands of dollars over time. By assessing your current inventory management process, you can make a list of key areas that you want to improve through a new software solution.
2. Weigh the Costs
Let's be honest, you wouldn't tell your customer to buy your most expensive product because price doesn't always equal quality. Similarly, you wouldn't tell them to buy the lowest priced items because sometimes the total costs are not upfront and clear to the buyer. Your business should be no different.
When you're looking at inventory management software, you should be considering your budget, the

potential savings you'll realize

, which can offset the price tag, and how robust a solution you need. The temptation is always to go with the top of the line, but if the solution is offering more functions than you need, you'll eat the costs (and the savings) in the end.
3. List the Key Features You Need in Your Software
Much like a streamlined inventory management system, you followed two key steps in your decision-making process for finding the best solution for your business. With a firm understanding of your current inventory and your process for managing it, you know what areas need to be improved.
At this stage, you also have a good idea of what you can afford. When considering your budget for inventory management software, you should include information on how new software will reduce inefficiencies and improve the accuracy of reporting. This is especially true if you're comparing new technology to a current legacy system that is hurting your ability to improve your operations.
With all this information, you can hone in on your last step for finding the right software – making a list of features that are essential to the success of your business.
Inventory management software features include everything from warehouse layout management to product features like bar code generation and front end point of sale applications. This is why knowing what your business needs now, and in the near future, is as important as anything else. You don't want software that can't scale with you, and you don't want to overpay for a system that does twice as much as you need. So what are the key features you need to effectively manage your stock?

You will likely want to look at your inventory needs as well as automation needs in terms of orders, back-order management, procurement and efficiencies gained with a fully-integrated business system.

For those in the equipment rental business, being able to manage the repair of equipment before the rental is a pivotal function for inventory management software. Similarly, those in trailer management need to track unit readiness, repair needs, availability, and other issues that may not be relevant to some industries. Knowing exactly what your business needs and finding a solution that fits will put you one step ahead of your competitors. Regardless of the industry, one solution does not fit all, but the solution that fits your business is best.
CAVU ERP's Inventory Management Software Can Help You Achieve Success
Ditch those outdated legacy software platforms requiring patchwork systems that act as a bandage, not a solution. Whether your inventory includes equipment rental or you're a wholesale distributor, our software solutions are designed to help you manage, track, and monitor your assets to boost profitability and improve performance.

You deserve a solution that fits your business from a provider who truly understands your industry. Connect with our specialists today to learn more about how we can help streamline your tasks from reservation to return.